Paul Chin
Hi my name is Paul Chin and I'm currently serving as the President of the Apartments.I am a second year planning on majoring in computer engineering. Some cool things about me is that I am an out of stand student from Florida, I love everything Apple, Golden hour and spontaneous trips to SF. I Cant wait to make this school year the best one yet for the apartments.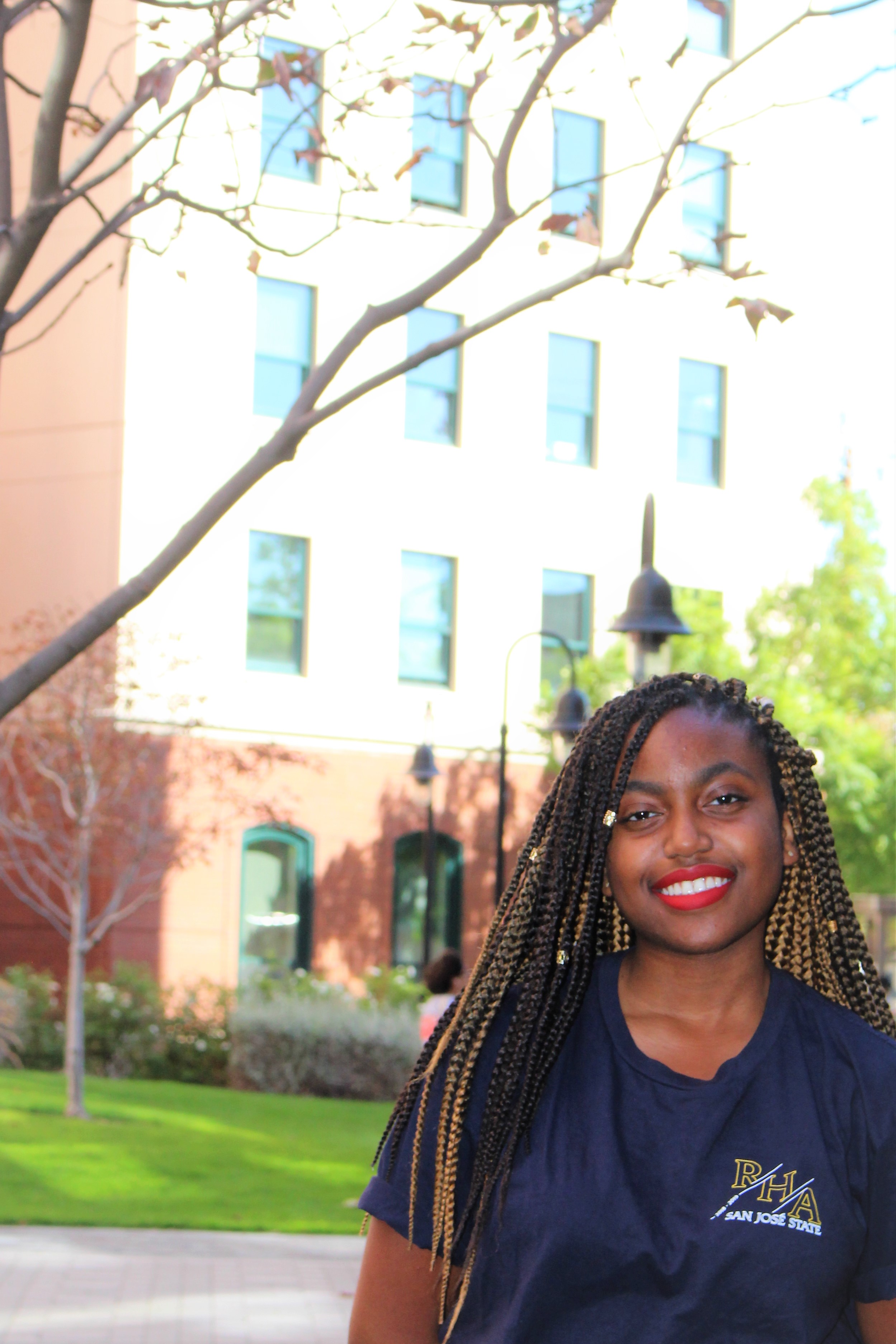 Sequoia Jackson
I'm from the border of both Oakland and Berkeley, California. I'm a second year student majoring in Anthropology with a concentration in Archaeology, and I plan to hopefully minor in Native American studies. Hobbies of mine include but do not limit to random food and boba runs every week, naps whenever I can get them, eating in general, busting missions to target, reading, and watching movies. Majority of my overall free time is spent with of my closest friends here. My journey in hall government began last year as a freshmen where I was Vice Prez of CV2. I always longed for student involvement, yet back then, I was too afraid to step up and try to be involved. Gratefully, one of my RAs at that time (our RHA Prez, Katrina Festejo) encouraged me to join. I'm here again because I loved being able to give back to my fellow residents and enrich their college experience. An interesting fact about me is that there's a 99% chance I'll wear at least one thing adidas at one point during the day, every day.
Monica Rivera
Greetings! My name is Monica Rivera and I am proud to serve as this 2018-2019 school year's Secretary for the Apartments (CVA & CVB). A couple interesting facts about myself is that I am a current 2nd year student majoring in Public Health (with the concentration in Health Services Administration), my zodiac sign is Taurus, I am left-handed, and I am bilingual (I am fluent in both English & Tagalog). I am grateful to have been elected for this position because I have always wanted to get more out of my college experience. I figured this was a great opportunity for me to express myself and make my mark here at San José State University. Finally, I am looking forward to get busy with my hall government and the entire Residence Hall Association to bring the fun, comfort, and service opportunities for all my fellow on-campus residents.
Alexia Lozano
Hi everyone! My name is Alexia and I will be your Treasurer for this school year! I am from a city in San Diego named Chula Vista. I'm a second year and I'm a Forensic Science major with an emphasis in Biology, and I'm currently trying to minor in Chemistry and Mexican American Studies. I love to play sports (even if I'm not good).I played basketball for six years and I joined an intramural volleyball team under a club I joined named Destino. I love to explore, and play musical instruments. I played the piano for two years, and the viola for one year.
I joined Hall Government in hopes of helping unite our dorm community and make it a fun year for residents! I generally like to be an optimistic person so I love to help people and make them feel welcomed.
Nicholas Ong
Hello everyone! I am a 4th year Industrial and Systems Engineering major with a minor in Computer Science. Some of my hobbies include hiking, gaming, programming, and photography.
I don't really know how to talk about myself so I will leave this open ended, but feel free to ask me questions about myself or anything in general. I swear that I don't bite
Ciarra Dela Cruz
Hello, my name is Ciarra dela Cruz, and I'm a 3rd year public health major! This is my second year being with the Apartments hall gov, and I'll be working as a PO this time around. If you live in Joe West, you probably see me around a lot at desk late at night and know my face by now :) I don't have much free time in-between everything I'm doing right now, but when I do have time to myself, I just hang out around campus with my friends (or my English bulldog when I'm back home!)
Reanne Chan
Hello! My name is Reanne Chan, but you can call me Rae. I'm a second year communications major trying to switch into recreational therapy. I'm one of the Publicity Officers for the Apartments. I enjoy spending time with family & friends, taking pictures, going on adventures. I'm excited for what this year's hall government has in store! (-:
Vanessa Armenda
Hello, my name is Vanessa Armendariz and I am one of your Publicity Officers for this year. I am a second year Business Administration major with a concentration in Accounting. Although I really enjoy math and learning in general, I also have a passion for painting, crafts, and baking. I am very excited to be able to help put on fun events for you all this year. If you ever see me around, feel free to say hi or ask questions.
Erik Rangel
Hello everyone, my name is Erik Rangel, and I am one of your Publicity Officers for the Apartments. I am a 2nd Year Biology major switching to CHAD. A little about myself is that: I have lots of hobbies but not enough time to do them. I loved to read books, sketch some art, binge watch Netflix, play video games, watch vines, and just go out with friends. As a college student the little free time I have is spent napping, watching Netflix, or playing video games. I love hosting programs for residents so I am excited for this year and for what Hall Government has in store for y'all. I love meeting new people so feel free to say Hi.
Ashley Jerez
Hey everyone! My name is Ashley Jerez, and I am one of your PO's for the Apartments. I am a second year Psychology major and I am currently trying to minor in Biology. I am from the city of Paramount down in SoCal. I joined Hall Gov to assist in enriching the resident's dorming experience here at State. Here's to a great year! :)
Welcome to the Apartments Family!