Trevin Aguilar
Hey guys! I'm from Sacramento and I was born and raised in California! I love all kinds of sports, especially soccer, and hanging with friends/family. I'm an Engineering major and I hope to be able to plan and design a lot of fun events this year!
Alex Fozo
Hey everyone! I'm Alex. I'm from Fair Oak, California. My major is Chemical Engineering. My favorite thing to do is play soccer. I plan on putting on exciting events for The Classics this year.
Anthony Lopez
Hello, residents of the Classics! My name is Anthony Lopez, but you can call me Tony. I'm from Oceanside, California (San Diego County). My major is English. I'll serve as your secretary for this 2018-2019 school year! I will serve you to the best abilities and help provide you with fun memories while you stay in the Classics! Feel free to say "waddup" if you see me and 'I'm always down for a game of Uno or Dungeons and Dragons!
Karina Montoya
Hey friends!!! My name is Karina Montoya. I am from Oxnard, California. My favorite vine is (Doritos nachos preparados *crunch noises**eye roll*). My major is Behavioral Science. My all time favorite artist is Frank Ocean. My favorite thing to do on my free time is to go thrifting. As your treasurer this year I promise to give my 110% in order to make this the best year for you all.
Noah Batiz
Hey everyone! My name is Noah Batiz. I'm from Sacramento, California. My major is Biomedical Engineering. My favorite thing to do is play sports (soccer and volleyball) and play video games (Call of Duty, Battlefield, and Rainbow Siege). I chose this position, because I want to be able to capture all of the memorable moments that my fellow Hall Government members and I plan to create for all of you. Spartan Up!!!!
Eva Nicova
My name is Eva Nicova. I'm a first year Software Engineering major, and I'm very excited to represent The Classics as a Publicity Officer this year! I'm from El Dorado Hills. I enjoy riding horses, doing archery, and I've trained in kung fu for 8 years. My goal for this year is to help everyone on campus get closer together. My favorite things about this school is how pretty the campus is. I'm looking forward to a great first year of being a part of Hall Gov!
Noemi Martin
My name is Noemi Martin and I'm from Galt, California. I am a first year Aerospace Engineering major and a pizza enthusiast. I love stargazing and hammocking. I'm a big fan of dad jokes, bad puns, and boba tea. I also really enjoy traveling, taking naps, and binge-watching Netflix. I am super excited to get involved on campus as one of the P.O.s of Washburn and Joe West this year!
Maxwell Phelan
Hey! I am Maxwell Phelan. I'm an Electrical Engineering major from Folsom,California. I love playing card games and listening to music. I'm excited to serve as the publicity officer for the classics working to promote and plan events for the residents of Joe West and Washburn.
Ranjot Gill
My name is Ranjot Gill. I'm a 4th year computer engineering major. I'm from Sacramento, California. I'm involved with UHS as an RA and a member of NRHH. I am also a member of Theta Chi Fraternity. I really enjoy socializing with others, making trips to the dining commons, and editing videos for fun.
Chanel Ng
Hello! My name is Chanel Ng and I am a 4th year Business Marketing major with a minor in Event Management. This is my 3rd year as a Resident Advisor and I am proud to represent the Classics as their RA Liaison! Some of my hobbies include drawing, playing pc games or board games, watching movies, and spending time with friends! :-D
Devin Porter
Hey all, my name is Devin Porter. I am a third-year international business major, first-year RA. I am from Temecula, CA which is a small town in Socal. I love hanging out with my friends, being involved, going to raves and the beach. Later in life, im looking to become a large-scale special events planner and probably have a few dogs. I love meeting new people and helping others so never hesitate to reach out and say hi!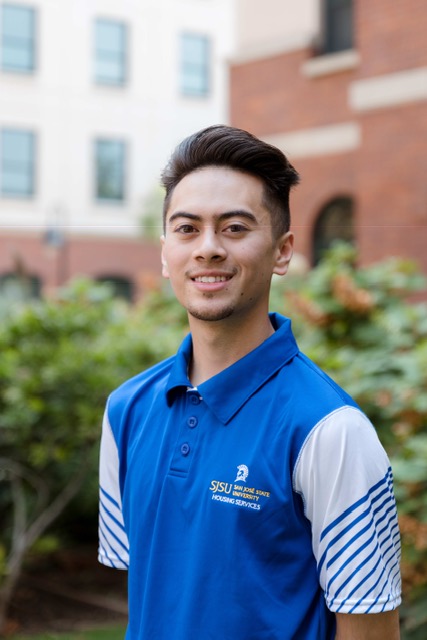 Jason Crudo
My name is Jason Crudo and I serve as a Resident Advisor (RA) Liaison! I was in Joe West Hall Government 2015-16, and Residence Hall Association E-Board in 2018. I currently serve on the Associated Students Board of Directors as our Director of Business Affairs. I love being involved in the communities I belong to because I aim to provide the most positive impact possible. As such, I find myself running from meeting to meeting. Still, please feel free to stop and talk to me if we pass by each other!